Latest headlines
The Catalan government has been gradually easing certain restrictions as the Covid-19 figures are stabilizing. As of March 15th mobility restrictions have been suspended allowing people to travel within their social bubble to secondary residences and even enjoying the sea or the tail end of the ski season.
To date, 115 hotels with 27.493 beds are open in Barcelona City. Additionally, 75% of cultural attractions are open to the public ensuring all the protocols and protective measures against Covid-19.
As for professional events, over one hundred congresses are confirmed for the upcoming years, and it must be highlighted, 63 in 2021.
Turisme de Barcelona has begun promoting Barcelona as an ideal destination to work while enjoying all its virtues. Barcelona Workation, is the new programme, in collaboration with the Barcelona Provincial Council, which offers a wide range of products and specific services for a new emerging market as a result of the pandemic: digital nomads and digital professionals. Discover the new promotional video "Move your desk. Change your Life".
In additional news, The Consortium, has also been working to relaunch the Turisme de Barcelona LinkedIn profile. A professional digital channel from which we will be posting the latest news on Destination Barcelona as well as our main promotional activities.
We aim to inform you on everything that is happening in the tourism industry, as well as in Destination Barcelona. Here are some of the latest headlines: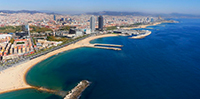 American Airlines returns to Barcelona as of March 28th with daily flights to Miami / BCN-MIA. Read more.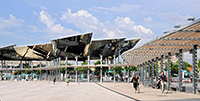 The Barcelona Tourism Observatory report. Check here for the status of vaccinations and the forecast of group immunity for all countries. Read more.
Digital Green Certificate by the European Commission to facilitate safe free movement within Europe during the Covid-19 pandemic. Read more.
For further information do not hesitate to contact us: press@barcelonaturisme.com